My z project began in the summer of 2000. The car was fitted with performance upgrades never before been done to the Zs on this side of Pacific, such as Pentroof manifolds, Greddy TD06-20G turbos, Border 850cc fuel kit, stand alone engine management...
Our work began in the summer of 2000. Originally, I went with HKS GT3037S turbos, 56 trim, .76 A/R. But quickly it became a problem the inducer opennings are 100mm. There was no space to have intake pipes around the motor mounts. The turbos were changed to Greddy TD06-20G's with 10cm~2 housings instead. (The 'regular' 3037 has only 70mm intake openning I later found out.:-)
Through many conversions with Devin (Z from Japan) disscussing both our projects, I learnt Pentroof already has been making manifolds for TD06 in Japan. In the Summer of 2001, a beautiful set of pentroof manifolds arrived here through JFK airport along with a set of Border 850cc kit. Many thanks to Devin!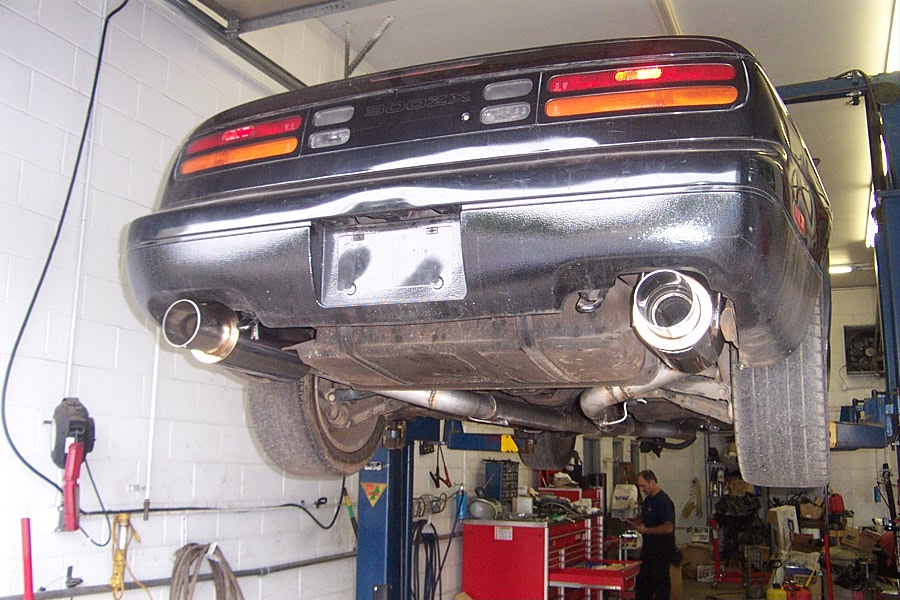 Primespeed 3" cat back exhaust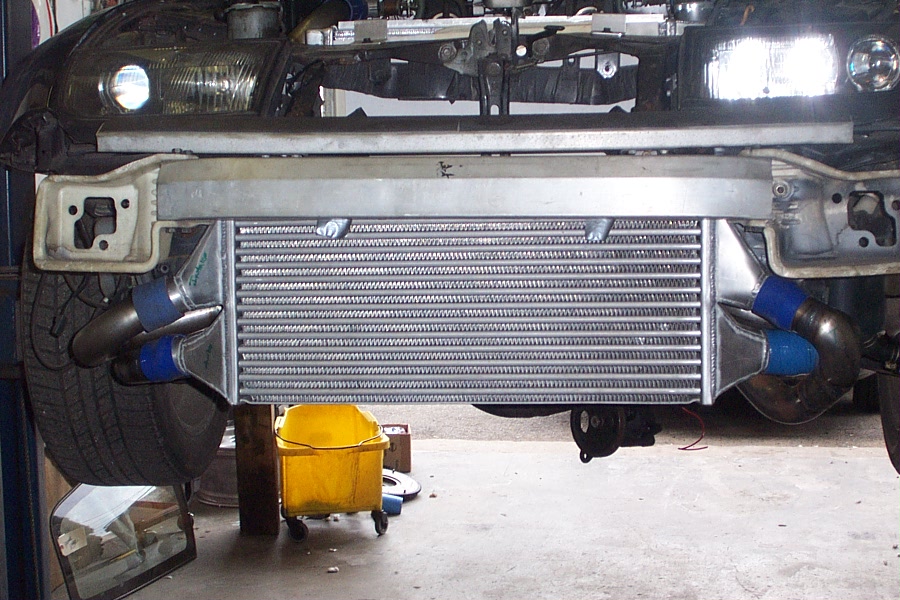 Fitted with Front Mount Intercooler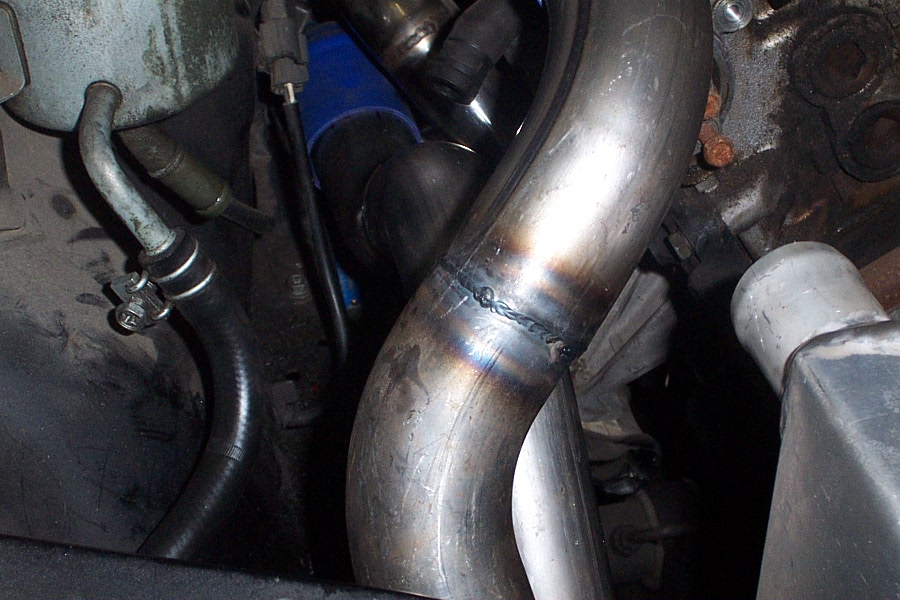 IC pipes
HKS Standard Wastegate from under
Jun Cam Gears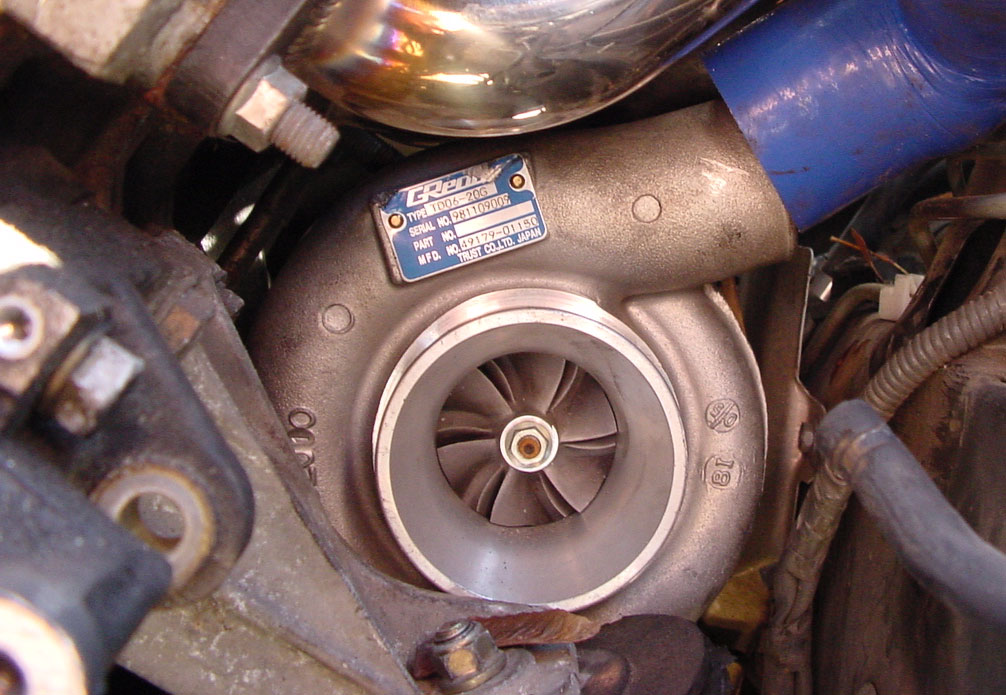 TD06 on driver side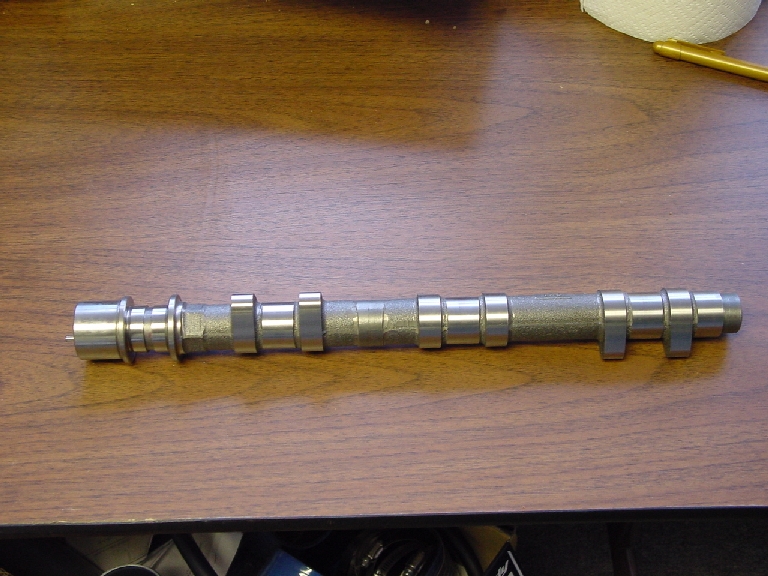 Jun cams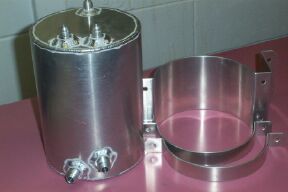 fuel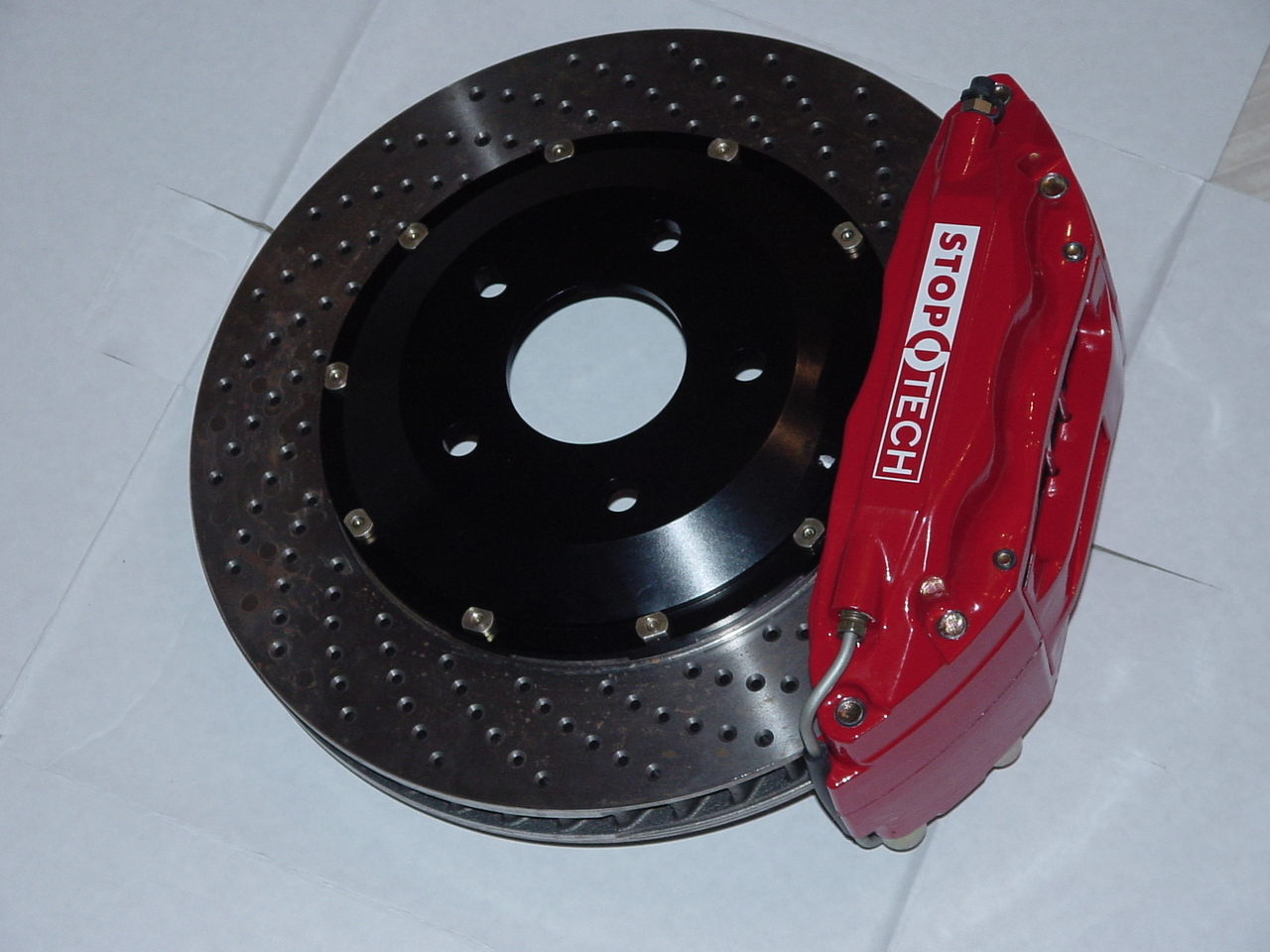 StopTech 13" brakes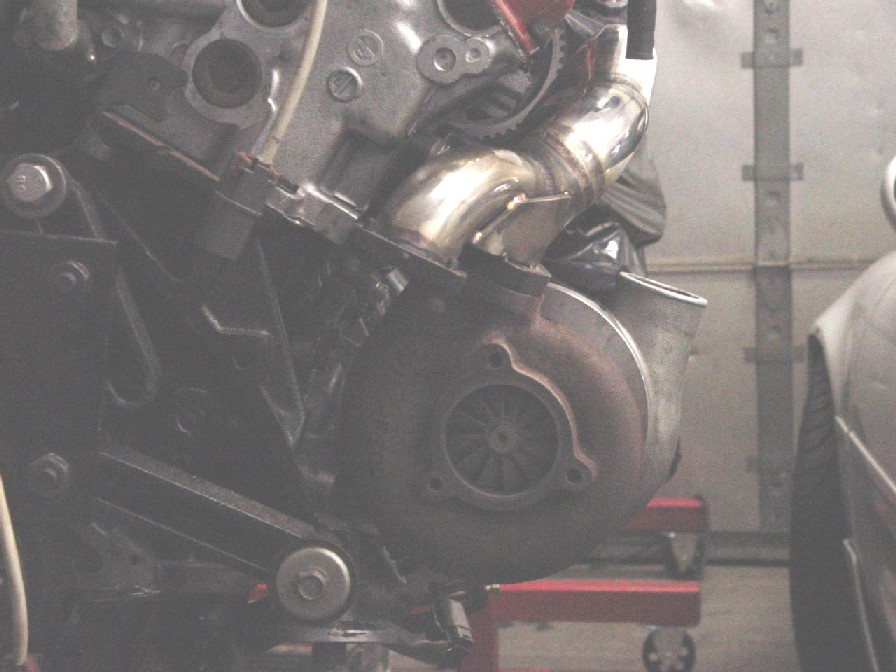 engine
hot side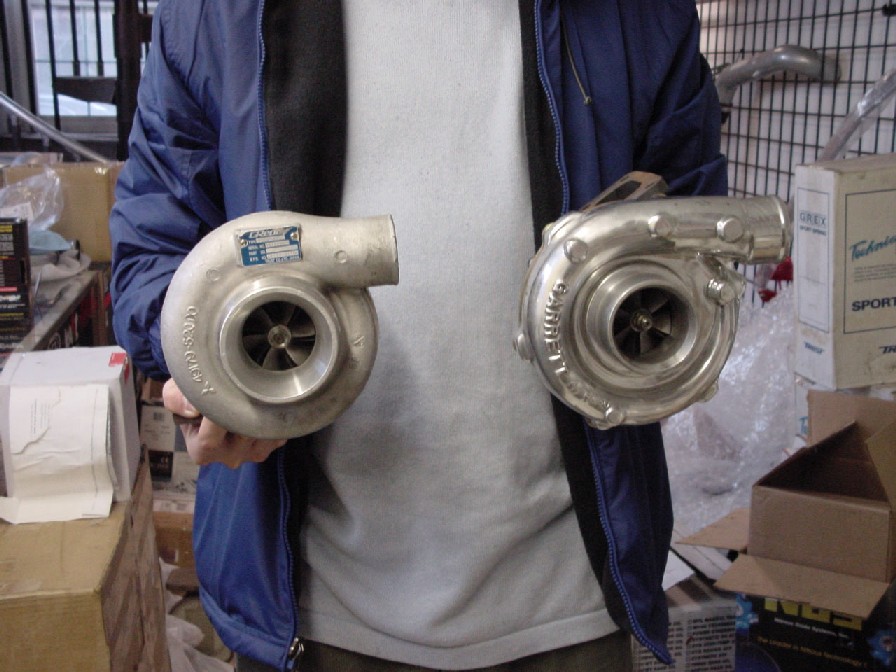 TD06-20G vs GT2835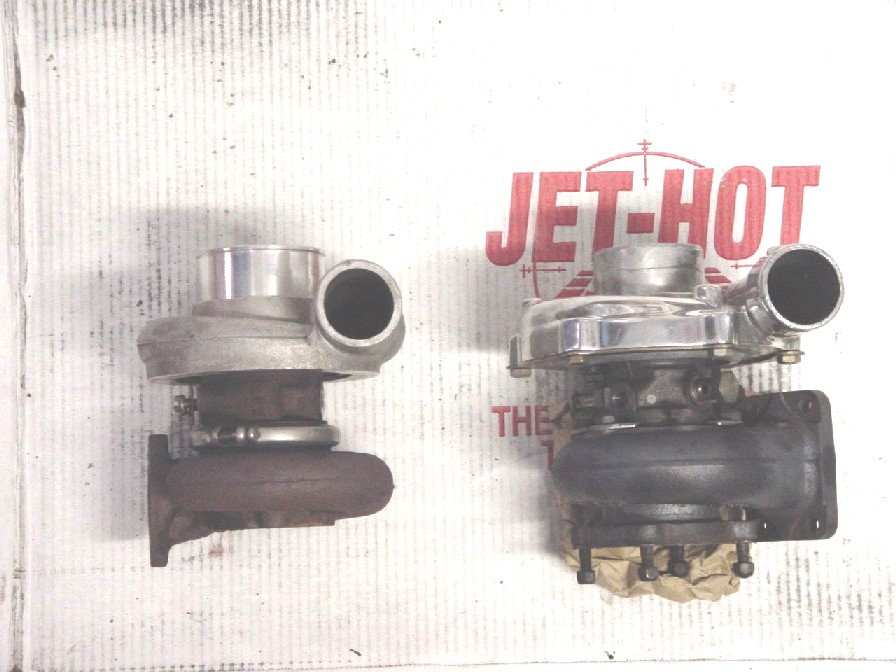 side view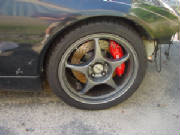 StopTech 13" front brake w/ RP01 wheel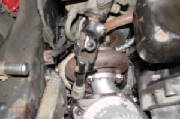 driver side turbo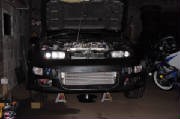 almost done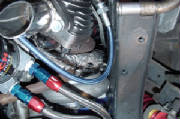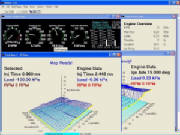 Haltech E11 engine data and base maps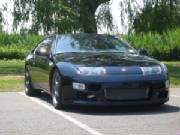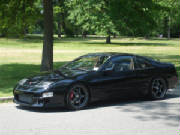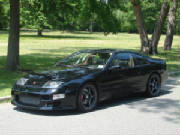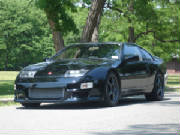 ENGINE MANAGEMENT AND ELECTRONICS

Haltech E11v2 ECU
Borsch LSU4 wideband O2 sensor w/ TE WB controller
AEM 5 bar MAP sensor
Greddy Profec B boost controller
HKS TwinPower DLI
Defi 60mm oil pressure gauge
Defi 60mm oil temp gauge
Defi 60mm coolant temp gauge
Defi 60mm fuel pressure gauge
Defi 60mm EGT gauge X 2
Defi 60mm boost gauge
DL 60mm ego gauge, peak hold & warning
TURBOS AND INTERCOOLER

twin Greddy TD06-20G
HKS wastegate Standard X 2
HKS SS BOVs
Pentroof exhaust manifolds with dump pipes
front mount intercooler, XS core
custom intercooler pipings
ENGINE
JUN 272 cams
JUN adjustable cam gears
JUN valve springs
JUN valve retainers
JE 90mm pistons 8:1 C/R, coated top and skirt. 3170cc
Total Seal piston rings
Pauter X beam rods
ported and polished head
Clevites rod bearings
Ferrea 35mm intake and 30.5mm exhaust valves
five angle valve job
knife edged crank
Greddy 1.6mm head gasket
Howe radiator
Mocal oil cooler
FUEL

Border 850cc injectors
Border fuel rails
dual external Bosche fuel pumps
AEM fuel pressure regulator
SX fuel filter